The Only Democracy? » Victories for Democracy » On Adeeb Abu Rahmah's release
By Rebecca Vilkomerson
Video of Adeeb Abu Rahmah being released

On a personal note, I remember very clearly the weekend that Adeeb was arrested. I was still living in Israel, and a friend from Anarchists Against the Wall was arrested with him.  This friend was detained for over 24 hours, blindfolded, etc.  This was fairly harsh treatment for a Jewish Israeli, and he told me all about it on our way to visit Tristan Anderson.
It's still amazing to me to think that Adeeb spent a year and a half in jail for doing EXACTLY what an Israeli spent 24 hours in jail for. It's so thrilling to see him at home, but so infuriating that he was there at all….
Here's Popular Struggle's account of Adeeb's release from Ofer Military Prison.
After serving an eighteen month jail serving for organizing unarmed demonstrations in Bil'in, Adeeb Abu Rahmah is a free man. Before he had even reached the gate of Ofer military compound, Adeeb Abu Rahmah had his hands in the air in celebration. Abu Rahmah crossed the iron gate of the compound and walked into freedom after eighteen months in military prison. Despite the frigid mountain air, the warmth of Adeeb's presence could be felt strongly by all present. He embraced his daughters immediately with tears in his eyes. With barely a moment to catch his breath, Adeeb kissed and hugged everyone that was present, occasionally throwing his hand high in the air with a peace sign and yelling out one of the many chants that are common on demonstration days in Bil'in.


Adeeb Abu Rahmah Moments After He was Released from Ofer Military Prision. Picture Credit:Oren Ziv/Activestills.org

A taxi driver and father of nine who has been active in the unarmed resistance in Bilin from its outset, Adeed Abu Rahmah was arrested in Bil'in on July 10, 2009 while taking part in one of the weekly Friday protests. The Israeli army accused him of participation in 'violent demonstrations' against the Israeli separation wall, presence in a 'closed Israeli military zone' and disturbing public order.

From the jail, a large procession of cars drove slowly towards Bil'in with music blaring, flags flying and lots of honking. Once in Bil'in, fireworks, dancing and chanting filled the winter air as the village broke out in celebration. Banners covered houses with pictures of Adeeb demanding a 'release to the prisoners of the Popular Struggle.' Among those greeting Adeeb were a handful of Israelis and internationals. As the wind and rain continued pounding Bil'in, the celebration moved inside. In the long battle of non-violence in the West Bank, a small victory was felt in Bil'in last night.
Unfortunately, Adeeb will be under a suspended sentence and under orders not to resume his human rights organizing. He was suspended from participating in any political activity for a period of four years, though there were hints this would be lifted sooner.. Should Abu Rahmah be caught within this period, he will be fined 6,000 NIS ($1600), around on charges of "incitement" and obstructing the work of the army by conducting  peaceful demonstrations against the Wall in Bil'in.
Here is him obstructing injustice by leading a protest in Bil'in August, 2008.

Photos of Adeeb's release, by Hamdi Abu Rahmah.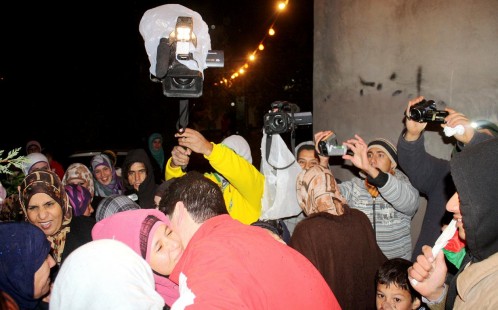 Filed under: Victories for Democracy · Tags: Adeeb Abu Rahmah, Bi'lin, freed, Ofer military prison, Protests Against the Wall