The Only Democracy? » Featured » Massacre, with a smile
A few days ago we learned about Eden Aberjil, an Israeli woman who posted pictures on her Facebook account of her abusing bound Palestinian prisoners at the time of her military service.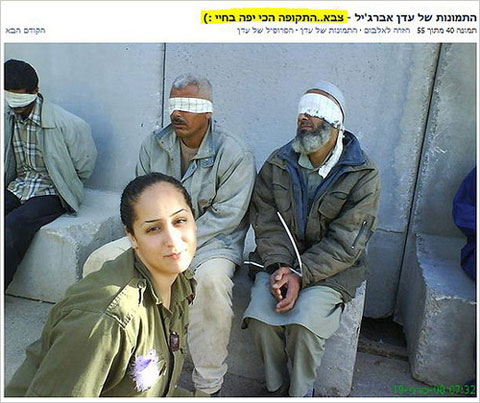 The picture is captioned 'Army service, the most wonderful time of my life!'
The controversy reached the New York Times, where Aberjil defended herself. She said that the "pictures were taken in good will, there was no statement in them." According to the Times, she added that they were not intended to humiliate the prisoners but merely to document her "military experience," and that she had no idea they "would be problematic."
The IDF response is what you would expect. According to Breaking the Silence, an organization of Israeli veterans that collects testimonies:
Unsurprisingly, the I.D.F. spokesman released a 'shocked' statement saying that this is the "shameless and ugly behavior of one soldier." This picture is not the ugly behavior of one person, but a norm throughout the army… that is a result of military rule over a civilian population over a long time.
Today Ynet reveals how "ugly" Aberjil's behavior really is. This is what she is really thinking, according to her own posts in Facebook following the controversy:
I am in favor of of Zionist Jewish state!! I am defending what belongs to me from the beginning of time!!… In war there are no laws!! I hate Arabs and wish them all manner of evil and gladly I would kill them and even massacre them. We cannot forget what they do. Does not matter the reason. I am simply on the side of the Jewish people!!
To Aberjil I say, I am one of many Jews who do not consider you on "our side." Not one bit.
To the IDF I say, stop hiding behind excuses. Pay attention to Breaking the Silence's documentation of how these humiliating pictures are the norm, not the exception. Oh, and teach your soldiers a thing or two about the Geneva Conventions, will you? Would you explain how they can do years of military service and still believe that there are no laws of war?
Filed under: Featured · Tags: Detainees, Eden Abergill, Facebook, Palestinian prisoners, Photos