The Only Democracy? » Human Rights Activists in the Crosshairs » Bil'in's Abdallah Abu Rahmah Cleared of Stone-Throwing; Convicted of Incitement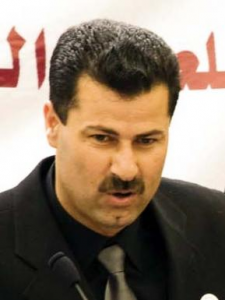 From the Popular Struggle Coordination Committee.
Protest organizer Abdallah Abu Rahmah from Bil'in was convicted of incitement and organizing illegal demonstrations today, after an eight months long military trial, during which he was kept behind bars. He was acquitted of a stone-throwing charge and a vindictive arms-possession charge.
Abdallah Abu Rahmah's verdict was read today in a packed military court room, concluding an eight months long politically motivated show-trial. Diplomats from France, Malta, Germany, Spain and the UK, as well as a representative of the European Union were in attendance to observe the trial. Many of his friends, supporters and family members showed up to send their support.
Abu Rahmah, the coordinator of the Bil'in Popular Committee Against the Wall and Settlements, was acquitted of two out of the four charges brought against him in the indictment – stone-throwing and a ridiculous and vindictive arms possession charge. According to the indictment, Abu Rahmah collected used tear-gas projectiles and bullet cases shot at demonstrators, with the intention of exhibiting them to show the violence used against demonstrators.  This absurd charge is a clear example of how eager the military prosecution is to use legal procedures as a tool to silence and smear unarmed dissent.
The court did, however, find Abu Rahmah guilty of two of the most draconian anti-free speech articles in military legislation: incitement, and organizing and participating in illegal demonstrations. It did so based only on testimonies of minors who were arrested in the middle of the night and denied their right to legal counsel, and despite acknowledging significant ills in their questioning.
The court was also undeterred by the fact that the prosecution failed to provide any concrete evidence implicating Abu Rahmah in any way, despite the fact that all demonstrations in Bil'in are systematically filmed by the army.
Under military law, incitement is defined as "The attempt, verbally or otherwise, to influence public opinion in the Area in a way that may disturb the public peace or public order" (section 7(a) of the Order Concerning Prohibition of Activities of Incitement and Hostile Propaganda (no.101), 1967), and carries a 10 years maximal sentence.
Abu Rahmah's case was the first time the prosecution had used the organizing and participating in illegal demonstrations since the first Intifada. Military law defines illegal assembly in a much stricter way than Israeli law does, and in practice forbids any assembly of more than 10 people without receiving a permit from the military commander.
Abu Rahmah's sentencing will take place next month, and the prosecution is expected to ask for a sentence exceeding two years.
Click here for the complete verdict (Hebrew)
Background
Last year, on the night of International Human Right Day, Thursday December 10th, at 2am, Abdallah Abu Rahmah was arrested from his home in the West Bank city of Ramallah. Seven military jeeps surrounded his house, and Israeli soldiers broke the door, took Abdallah from his bed and, after briefly allowing him to say goodbye to his wife Majida and their three children — seven year-old Luma, five year-old Lian and eight month-old baby Laith — they blindfolded him and took him into custody.
Abu Rahmah did not find himself behind bars because he is a dangerous man. Abdallah, who is amongst the leaders of the Palestinian village of Bil'in, is viewed as a threat for his work in the five-year unarmed struggle to save the village's land from Israel's wall and expanding settlements.
As a member of the Popular Committee and its coordinator since it was formed in 2004, Abdallah has represented the village of Bil'in around the world. In June 2009, he attended the village's precedent-setting legal case in Montreal against two Canadian companies illegally building settlements on Bil'in's land; in December of 2008, he participated in a speaking tour in France, and on 10 December 2008, exactly a year before his arrest, Abdallah received the Carl Von Ossietzky Medal for Outstanding Service in the Realization of Basic Human Rights, awarded by the International League for Human Rights in Berlin.
Last summer Abdallah was standing shoulder to shoulder with Nobel Peace laureates and internationally renowned human rights activists, discussing Bil'in's grassroots campaign for justice when The Elders visited his village. This summer, he may be sent to years in prison, exactly for his involvement in this campaign.
Filed under: Human Rights Activists in the Crosshairs · Tags: Abdallah Abu Rahmah, Arrests, Bil'in, Detentions, Incitement, Israeli legal system, Trial