The Only Democracy? » On The Ground Reports » Criminalization of Popular Struggle Continued; Abdallah Abu Rahmah Sentenced
From the Popular Struggle Coordination Committee.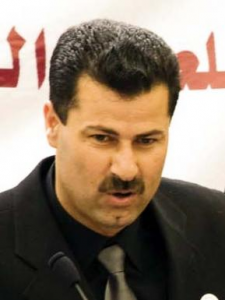 Abdallah Abu Rahmah's first trial from 2005 had reached conclusion yesterday, with his sentencing to two months of imprisonment and a six months suspended sentence for participating and organizing demonstrations and for walking the streets of his village during a curfew designed to prevent a demonstration. A verdict in
Abu Rahmah's main case
for which he is already in jail since December is expected soon.
Bil'in Protest organizer Abdallah Abu Rahmah was sentenced to two months of imprisonment and to a six month suspended sentence, after a five year long trial on charges clearly related to freedom of speech.
Abu Rahmah was convicted of two counts of "activity against the public order", simply for participating in demonstrations, in one count despite the fact that "No evidence of violence towards the security forces was provided". Abu Rahmah was also convicted of "obstructing a soldier in the line of duty", for shouting at a police officer and refusing to leave the scene of a demonstration, of "breaking curfew", for being in the street in front of his house when the army declared curfew on Bil'in to suppress a demonstration, and of "incitement", which under military law is defined as "The attempt, verbal or otherwise, to influence public opinion in the Area in a way that may disturb the public peace or public order". Abu Rahmah was convicted of inciting others to "[…] continue advancing [to their lands during a demonstration in Bil'in], claiming that the land belongs to them.
Gaby Lasky, Abdallah Abu Rahmah's lawyer said that "The military court threads a dangerous path of criminalizing legitimate protest in the West Bank. Abu Rahmah was arrested, prosecuted and sentenced with the clear intention of sending a message that the Palestinian struggle, even when of civic nature, will not be tolerated".
Yesterday's sentence joins a long line of recent military court decisions criminalizing Palestinian protest and effectively cracking down on the already limited Palestinian freedom of speech. The decisions are part of an Israeli campaign to suppress Palestinian grassroots resistance to the Occupation across the Occupied Territories.
One of the clearest examples of the legal persecution against protesters is that of Adeeb Abu Rahmah from Bil'in, who is still incarcerated, even after fully serving a ridiculously long 12 months sentence.
Mohammed Khatib of the Bil'in Popular Committee said that "In my village we learned that when we fight for our rights, when we expose what is being done to us, we can achieve victories, and indeed the path of the Wall is now being moved. Israeli is trying to intimidate us, to dissuade from fighting for our rights – but what other options do we have? Both the Wall and the settlements on our lands are built in contradiction of i
Filed under: On The Ground Reports · Tags: Abdallah Abu Rahmah, Bi'lin