The Only Democracy? » Featured, On The Ground Reports » Live from The Only Democracy?: exclusive interview with Huwaida Arraf of the Gaza Freedom Flotilla
By Jesse Bacon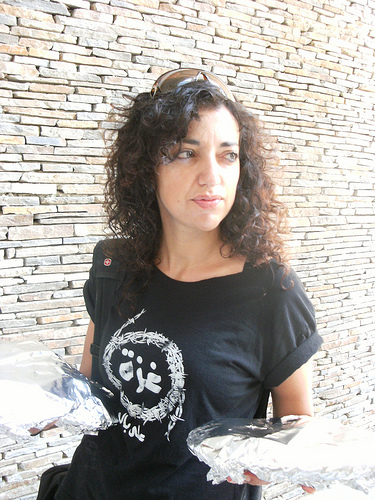 I had the privilege of speaking with Huwaida Arraf of the Gaza Freedom Flotilla direct from Ramallah today. I will write up a transcript later of the talk, but for now here's the interview audio, which takes a few seconds to begin in both clips.
I will speak to her again tomorrow and be asking her more about what happened on May 31 itself.
Huwaida Arraf is a pro-Palestinian activist and co-founder of the International Solidarity Movement (ISM). The stated mission of the ISM is to "resist the Israeli occupation of the West Bank using nonviolent tactics".
Arraf is the daughter of a Palestinian mother and father. Her father has Israeli citizenship. Arraf majored in Arabic and Judaic studies and political science at the University of Michigan, Ann Arbor. She also spent a year at the Hebrew University in Jerusalem and studied Hebrew on a kibbutz.  Arraf later earned a J.D. at American University's Washington College of Law. Her focus was on International Human Rights and Humanitarian Law, with a particular interest in war crimes prosecution.
Arraf was aboard the Challenger 1, the largest ship of a humanitarian flotilla to Gaza, when the flotilla was attacked by the Israeli military. She is the chairperson for the Free Gaza Movement, the organization behind the flotilla.
Filed under: Featured, On The Ground Reports · Tags: Gaza Freedom Flotilla, International Democracy Activists, Palestinian Citizens of Israel