The Only Democracy? » Victories for Democracy » Queers Say No Pinkwashing in the Pacific Northwest
ed's note: Unusual for TOD? we are focusing on domestic activism in this post by new contributor Wendy.
By Wendy Elisheva Somerson
My friend Selma and I were gripping each other's hands tightly last Thursday night, March 15th, as Seattle's LGBT (Lesbian, Gay, Bisexual, and Transgender) Commission voted on whether to cancel an Israeli pinkwashing event that was scheduled to happen the next day at Seattle City Hall. We had both spoken in favor of cancelling the event, and I knew that Selma, a queer Palestinian American activist, couldn't help but feel like they were deciding on the legitimacy of her personal history.
For a few weeks prior to this eventful night, activists in the Pacific Northwest were mobilizing to respond to the March pinkwashing tour, "Rainbow Generations: Building New LGBTQ Pride & Inclusion in Israel," which was coming to our region. StandWithUs and the Israeli Consulate sponsored four leaders of Israeli LGBT organizations to visit the Northwest to "share the innovative work they are doing in Israel, learn from counterparts in the US, and build relationships for future collaboration."
What could be wrong with inclusion, pride, and collaboration? Nothing until you realize that this warm and fuzzy rainbow disguises a cynical government campaign. Events like this are part of "Brand Israel," a public relations program launched in 2005 to promote Israel as the progressive center of cultural advances in the Middle East in order to deflect criticism of Israel's violations of Palestinian rights.  Pinkwashing refers to the arm of this campaign that positions Israel as an oasis of gay freedom surrounded by uncivilized and homophobic Arabs, particularly Palestinians.
Right Wing militant Israel advocacy organizations, such as StandWithUs, use racist language and imagery to highlight the violence that gay Palestinians face. However, they never mention the daily violence, persecution and restriction all Palestinians, whatever their sexual orientation, face from the Israeli government under Occupation.  Claiming that Palestinians find refuge in Israel, StandWithUs conveniently ignores the fact that Palestinians in the West Bank, Gaza Strip or refugee communities are specifically ineligible for asylum under Israeli law. Pinkwashing invisibilizes the work of queer Palestinian activist organizations al Qaws and Aswat who simultaneously fight homophobia and Israeli Occupation.
When we heard about the pinkwashing tour, queer anti-Occupation activists across the Puget Sound quickly started making phone calls, writing letters, organizing teach-ins, and holding protests. And we were gaining momentum: An event at a youth center in Tacoma was cancelled, and an event in Olympia that was forced to switch venues at the last minute was poorly attended.
In Seattle our chapter of Jewish Voice for Peace and other groups were preparing to hold a protest to educate folks about pinkwashing at the major event of the tour—a reception hosted by Seattle's LGBT Commission for the "Rainbow Generation" speakers on March 16th at Seattle City Hall.
Then we found out that the Commission was holding a public meeting the night before the event. A coalition of Jewish and Palestinian American queer activists, who have been doing anti-Occupation work together for years, attended the Commission meeting. In the time for public comments, three Jewish Voice for Peace activists (Stefanie, Katie and I), explained that we were not opposed to hearing from individual gay Israelis, but that we could not support a tour backed by the hateful group StandWithUs and the Israeli government. We also differentiated between being critical of Israeli government propaganda and actual instances of anti-Semitism that discriminate against Jewish people.
After a couple folks in favor of holding the event argued that we should never close the door on dialogue, several of us pointed out that a true dialogue was not possible in an event where Palestinian voices were not only absent but invisiblized. As queer Jewish activists, we demonstrated that we were doubly refusing to let our queer AND Jewish identities be used to justify the Israeli Occupation. By addressing objections to cancelling the event, we worked as allies to our Palestinian American friends, Selma and Laila, to create space for each of them to tell their stories.
Selma read from her letter to the Commission about how her father became a refugee when their home in Palestine was ethnically cleansed in 1948. She linked this dispossession to how pinkwashing covers up Israeli policies that hurt her and her community and explained that her queer and Palestinian identities are inextricably linked together. Then Laila, a queer Palestinian whose family has Israeli citizenship, explained that her family members are treated as fourth-class citizens within Israel. She described how her visits to Israel are accompanied by government harassment simply because of her ancestry.
In spite of the emotional effect these powerful stories appeared to have on everyone in the room, one of the Commission co-chairs thanked us for coming and informed us that the event would take place as planned. I thought to myself wearily that this was "business as usual."
But then something extraordinary happened. With tears in his eyes and a voice shaking with emotion, one of the Commissioners said that he felt they had made a huge mistake because they had no idea that holding this event meant marginalizing and invisibilizing Palestinian LGBT folks. Another Commissioner followed this brave lead by saying he felt nauseous just thinking about how they were being used to promote government propaganda. Many Commissioners described their own naiveté when they agreed to host this event and their subsequent confusion.
Next Stefanie jumped in to point out how it was no coincidence that they felt confused because pinkwashing propaganda is designed to obfuscate the truth, but nonetheless they still had the opportunity to make things right. Selma spoke eloquently about how hosting this event would mean a betrayal of the city's Race and Social Justice Initiative because it supported covert racism. She demanded that they listen to their consciences:
By being courageous and taking a stand and canceling this event, you will be standing alongside many other national and international organizations and leaders who have said no to the exploitation of our queer community to wash away war crimes that continue to subjugate and oppress my family and my community.
After they put forward the motion to vote, we watched as six out of the eight Commissioners raised their hands in favor of cancelling the event. My grip on Selma's hand tightened, and I just kept repeating, "it was a majority, a majority!" We hugged in joyful disbelief. Something momentous and unusual happened that night in City Hall: Palestinian American stories were put at the center. The Commissioners listened to Selma's and Laila's moving testimonies about their experiences and activism as queer Palestinians, and these stories prompted them to change their minds.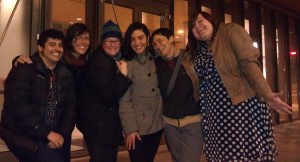 On our way out of the room, we exchanged hugs with the Commissioners who voted to cancel the event, and they thanked us for showing up and telling our stories.
Outside of city hall, our small group of activists and supporters literally jumped up and down with excitement and joy to celebrate a victory made possible by years of working together in coalition.
The next day while listening to Brene Brown's TEDx talk where she re-categorizes our willingness to be vulnerable as strength, I realized that many people in the Commission meeting that night demonstrated this truth. Laila and Selma were willing to be vulnerable and share their own stories of pain and resilience. Moved by these heartfelt stories, the Commissioners were willing to be vulnerable enough to admit that they had made a mistake. Most importantly, they took the additional step of attempting to repair the damage of their mistake by refusing to be complicit in pinkwashing.
When the LGBT Commissioners took the courageous stance of cancelling this event, they privileged the voices of individual queer activists in our communities over StandWithUs and the Israeli consulate, who want to use our queerness to forward their pro-Occupation agenda.  This time around, as anti-Occupation activists, we got to call off our protest and instead celebrate how we made our queer Jewish and Palestinian voices heard.
Filed under: Victories for Democracy · Tags: Brand Israel, LGBT, Pinkwashing, Queer, StandWithUS