The Only Democracy? » On The Ground Reports » Israeli Commandos be ashamed! Why did you kill so few?
By Amir Terkel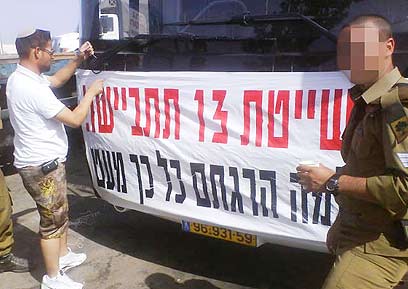 That's the banner this bus driver  decided to adorn his bus with.
Speaking of signs and the commandos, I've seen quite a few large banners along the highway that read: "Commando Soldiers, Israel is proud of you!"
Public rage against opposing views has reached a boiling point. Last week on my way to a demonstration protesting Israeli action against the flotilla I walked by
a crowd of right wing protestors screaming "Kill the Lefties, Kills the  Lefties" at the top of their lungs. I was glad to see police near by.
That's the quick Israel report for today.
Filed under: On The Ground Reports