The Only Democracy? » Featured, On The Ground Reports » Surviving Israel's Military with Solar Power: Imperfect Life in South Hebron Hills
By David Shulman.
January 16, 2010 Mufagara, Bir el-'Id, Tuba (ed's note:report was delayed so the Israeli army wouldn't wreck the project.)

Ziad Muhammad Yusuf Muhamra, from Bir el-'Id: sun-dried face, deep scars, lively eyes. It is hard for me to understand his Arabic, not only because it's fast, slurred, and in South Hebron dialect. He was shot in the throat by a soldier in 1986 while he, Ziad, was sitting on the ground; the bullet exited near his right nostril. Miraculously, he survived, but his speech was affected, and there was considerable damage to the nerves in his neck. I ask him to tell his story, and out it comes in a rush in the blinding mid-winter sunlight as the sheep chew vigorously on thorns and greens around us.
"I was out with the sheep near Jinba. They [soldiers] chased us away. We fled back up the hills. Then the Green Patrol claimed we had crossed the Green Line into Israel, and they threatened us, and the settlers came down on us from above. They came at us from three sides, hemming us into the wadi with the sheep. I was with my brothers and my uncle. There were soldiers with guns and two men from the Shabak [General Security Services], Marko and Koby; we knew Koby well, he was often in the area. First Marko hit me hard, a fight broke out, an inspector from the Green Patrol was wounded on his ear. They told us we had to leave. I sat down on the ground and covered my head with my arms. The soldier gave me a heavy blow with the butt of his gun. One of the soldiers took out a pistol, I could hear him playing with the clip. They said they'd shoot me if I didn't get up and go away, but I just sat there, so the soldier shot me here [pointing to the scar on his neck]. Afterwards when I was lying there bleeding I heard Koby and the soldier concocting their story. They said they'd report that I'd tried to grab a weapon, so they shot me. But they were worried. Finally they called a helicopter that took me to Soroka Hospital in Beer Sheva. I was in the hospital for a long time. At first I couldn't talk and I couldn't eat; they fed me through a tube directly into my stomach for a whole year. For months I saw the doctors, there was a doctor in Bellinson and another in Shaarei Tzedek who tried hard to help me. The authorities demanded that I pay a fantastic sum for the medical expenses, but anyway we have no money. In the end, the army paid. The day after I was shot the army arrested my two brothers and held them for a month."
Ezra says: "Here's a story with a half-happy ending." "Half?" I say. "Yes, he's still alive, he can talk, he has a life." He's not alone. On the way here we see Khalid, shot in the stomach by settlers at the time of the first Iraq war. He's alive, so it's another half-happy story.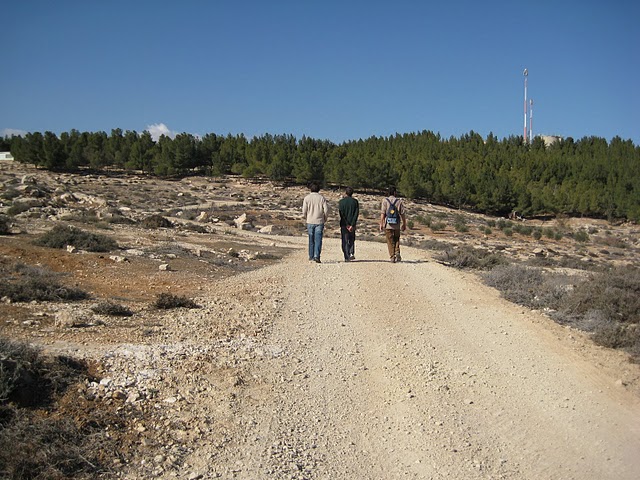 Nearly noon. The sun drilling fiercely into the rocks, the pores of your skin. In the distance, wrapped in a blue haze, the mountains of Gilead in Jordan. Beneath us, Bir el-'Id, with its new tents and rebuilt terraces—all of them under sentence of demolition as of last week, courtesy of the Civil Administration. To the south, the well named Lucifer Farm, the illegal outpost of Yaakov Talia. Above and below us and on the ridges far away, herds of beige-brown sheep in the precise shade of the omnipresent stones—like moving, feeling, hungry stones. Ziad, his brother, his nephews, as if carved out of these same hills. It's a hard life they lead, and a good one. They're very poor, of course. Who would believe that human beings could survive at all in this fierce wilderness? They have to bring water in tankers every day over the hills from Yata, miles away. Ezra says they are straight and simple people in the best, the most positive sense of the word "simple." (If only I could be simple like that.) They're beautiful, too—strong, handsome women who stare you in the eye, who stand firm on the soil; strong, handsome men, good with their hands, their faces folded into deep creases by the wind and the sun. They sleep in caves or, sometimes, in the open air under the stars. They drink freshly fermented yogurt from their goats' milk and eat the hard, salty cheese they make. It's a good life and a possible life, however difficult it may be in ways that we, in our softness, can hardly imagine; they seem to me to have a talent for happiness, they would probably be happy were it not for the settlers who torment them, the soldiers who back the settlers up.
The cellphone rings: Zvi calling from Mufagara, where an hour ago we left a small group of volunteers to follow the shepherds, to protect them from the settlers. The army has turned up with the usual signed order declaring the area a Closed Military Zone. The order is illegal, we know it well, but the Mahat—the Battalion Commander—doesn't care about that, and the officers who have presented the order are in no mood to explain: "We work for the Mahat." End of conversation. Why has this happened? Most probably settlers from the nearby outpost of Mitzpeh Yair have noticed our presence and ordered the army to drive us out— and the army normally takes its orders from the settlers. Anyway, they don't want us here. We interfere in the ongoing land-grab. We get in the way. We make it just a little harder for them to terrorize the innocent.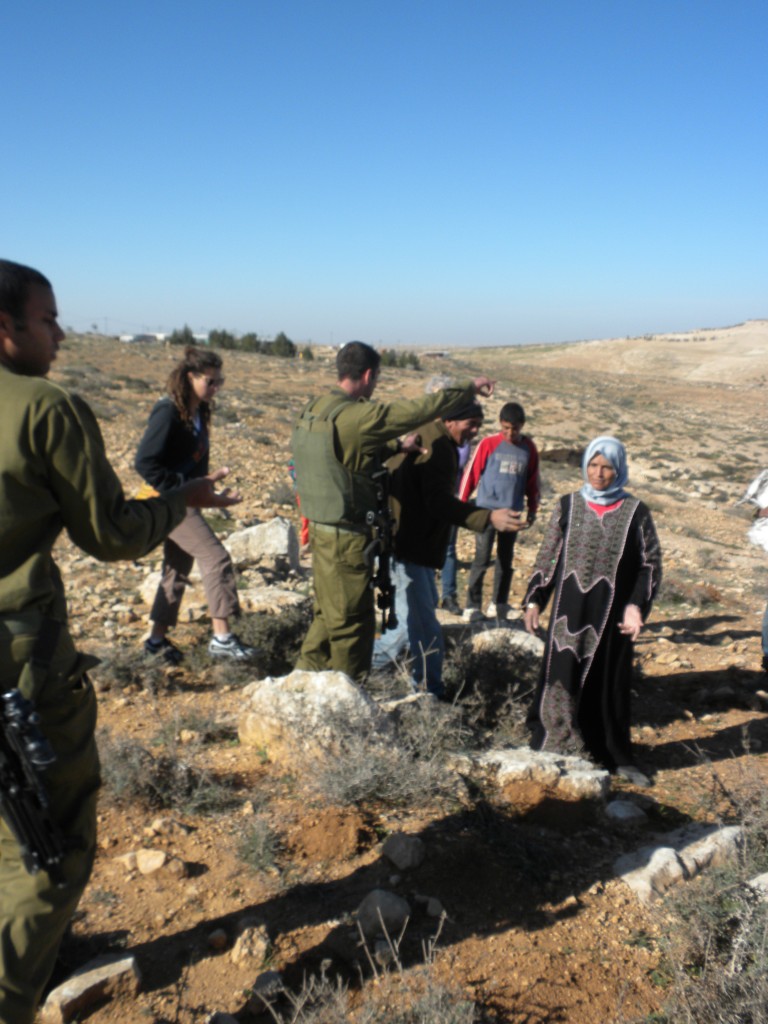 There's another large group of volunteers, with Keren and Amiel, following the shepherds in the long, meandering wadi under Tuba, and they are so far undisturbed. They don't need us, things are quiet. So Ezra drives us, first, to Bir el-'Id for a courtesy call and then on to Tuba, another lonely, rugged little paradise perched on the easternmost ridge overlooking the desert—a cluster of caves and stone pens and terraces all too close to the illegal outpost of Chavat Maon. I have a friend, 'Ali, in Tuba. We meet him, riding his tractor with water tank attached, on the road, if you can call it a road. He has a son, Yusuf, eight years old, a little deaf, a little strange; Yusuf loves Ezra, who welcomes him into the car and sits him down on his lap, behind the steering wheel. Off we go up the mountain, a wild ride, more like trying to keep on top of a stampeding stallion as it bolts and rears and slips on the rocks than like driving. The wheels slide and the car veers left and right, or up and down, at times dangerously close to landing on its side; we jolt and bounce and tremble, the engine coughs and strains, and try as you might, there's no way to discern anything that looks like a real track, let alone a viable surface for vehicles. Yusuf holds the wheel, happy, basking in Ezra's tenderness. We climb past the tiny khirbeh named Swait (to be precise, there's both an Upper and a Lower Swait), and eventually we glide in over the stones to Tuba. 'Ali arrives on the tractor, by a different route, a few minutes later.
It's birthing season: the goat-pen is dense with scraggly white kids, new-born, still struggling to find their feet. But there's other news, big news, in Tuba: three days ago Noam and Elad, along with other volunteers, finished installing a wind-and-solar turbine here, and now, for the first time ever, Tuba has electric power. It's a revelation and a revolution, moving beyond words. Like Thomas Edison, still astonished, 'Ali takes us into one of the caves, a deep one, so deep and dark that his own children had never explored its hidden recesses. A coiled pale light-bulb now hangs from the ceiling; 'Ali points to the soccer ball far inside, where his sons have started playing. He's beside himself with joy; I've never seen him like this. He brings out the old petromax lamp they used to use at night, forever superseded by the novel bulbs. Lights are also on, though it is early afternoon, in the tent where they serve us tea. I understand. It's a miracle of the Creator's, I say to him, and he agrees at once, his eyes alight. He tells me in his deep-throated shepherds' Arabic: "I was born here, I grew up in these caves, I have lived here for forty years, but three nights ago I felt like a complete person for the first time in my life." He repeats over and over: it is something marvelous, utterly strange and wonderful, gharib jiddan.
I spend some time with 'Ali's father and mother. They have fifteen children, all born here in the caves. I introduce Eileen; they want to know about our sons and grandchildren. Two of the younger children, in their teens, shyly draw near. I ask them if they go to school. Yes, they do, in Twaneh, several kilometers away over the hills. Do they walk there every day? Yes, they go on foot. And what about the settlers? I ask the question, and their faces, and the face of 'Ali's father, grow visibly dark. I know the answer. The path to the school skirts Chavat Maon, and settlers harass the children whenever they can, sometimes beating them with guns and metal chains, even when the army jeep that is supposed to protect these schoolchildren is with them; I remember an incident last year when the soldiers stood by and watched the settlers' assault. Darkness gnawing at the light: the settlers are a black cancer planted, from outside, in the core of these people's life; growing, too, as a cancer spreads.
Yael Shinar is with us today, first time in South Hebron. She's a gifted poet, studying at Harvard; also the granddaughter of Professor Pesach Shinar, one of the great Israeli Arabists of his generation, a humanist and polymath for whom nothing human was alien. I studied with him many years ago. I'll never forget our excursion to the Haram al-Sharif, where he mesmerized and overwhelmed the doorkeepers at the great mosques with his luscious, learned Arabic. Professor Shinar is 96 years old. He was born in Europe and came to Mandatory Palestine as a young man. Last year he said to Yael: "When we came here, all we wanted was to be able to hold our heads high at last, like normal people, after the centuries of oppression. At first it was like that, and we felt free. But since we had no experience of it, we got it wrong; and now we have raised a generation of bullies."
Leaving, we stop to caress a noble white donkey tethered on the slope. Ezra likes donkeys. A horse, he says, is a conceited, pampered show-off, paltzan ve-shachtsan; expensive, too. A horse eats up money. Donkeys, on the other hand, are modest, intelligent, likeable, frugal, and good-natured. Suddenly I remember the zoo in Gaza, recently captured on You-tube. It's not exactly a grand affair, as you might imagine. By yet another miracle, they managed to smuggle in a tiger via one of the tunnels from Egypt (you can get almost anything you want from the tunnel traffic, if you can pay for it); but they simply couldn't bring in a zebra, despite popular demand. In extremis, they painted two donkeys with black-and-white stripes. The donkeys didn't object, and the children of Gaza love them. From what I could see on the clip, you could say they're good-enough zebras. Life, as we know, isn't perfect.
See David Shulman's previous report on the South Hebron Hills here.
Filed under: Featured, On The Ground Reports · Tags: David Shulman, South Hebron Hills, Ta'ayush