The Only Democracy? » Victories for Democracy » Muli Peleg on Israeli Democracy
By Jesse Bacon.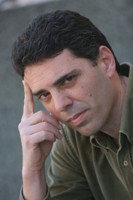 I attended a talk by Muli Peleg on "Israeli Democracy"  at LimmudPhilly, the Jewish "Learningfest". This is an event that is quite open to broad participation but certainly attracts many people from the organized "mainstream" Jewish community. This represented one of the few classes taught by an Israeli, or on the conflict at all.Peleg, a professor at Netanya College who is doing a visiting gig at Rutgers, laid out a shockingly honest critique of Israeli democracy to a shocked but receptive crowd. He began with a cynical comment from a friend that a talk on Israeli democracy would be "very short."
While Peleg cited arguments among different Israeli Jewish communities, he was clear on the basic problem facing Israel, and it was not the 1967 Occupation. "We have a Jewish state, symbols, and anthem and 21% of our population is not Jewish."
This basic division, which Peleg didn't go into the historical causes of, impacts all the benchmarks he cited: choice, participation, tolerance, and pluralism. Peleg, like so many others laid out two options: a state of all its citizens or a renewed covenant with a Jewish, but not exclusively so, political community.While Peleg clearly preferred the latter, it was wonderful to hear a call to address the roots of the conflict as being in Israel's own interests. He was clear that the first step was to resolve the Israeli/Palestinian conflict and that only that would enable Israeli Jews to address their issues with each other.
This shows that frank discussion about Israel is taking place in increasingly mainstream circles, and that American Jews are increasingly receptive. While there was shock, I didn't detect any real resistance to Peleg's points. No one walked out, or denounced him. The question is, what are Jewish  groups like the San Francisco Jewish Federation afraid of when they strive to muzzle exactly this kind of debate?
Filed under: Victories for Democracy · Tags: "insiders" Speak Out, democracy