The Only Democracy? » Featured, On The Ground Reports » More Context on Sheikh Jarrah and the "New" Israeli Left
The reflection from Rebecca Kirzner, below, puts the large demonstration in Sheikh Jarrah last weekend in context—both politically, and by reminding us that it was just one demonstration among many.  Much of the coverage of the protest spoke of the rise of a "new Israeli left" that had "never been seen before."  This is not quite true, and dismisses the ongoing and super-important contributions of  groups like Ta'ayush, Anarchists Against the Wall, and Rabbis for Human Rights, among others, that have been active, day in and day out, for years.   For example, who has been going to Bil'in in solidarity for all these years, every week?  This is not a new movement–this is the growth of a small and stubborn movement that has been dogged and active for years, that is *hopefully* catching on, not the spontaneous combustion of a "new left."–Rebecca Vilkomerson.

By Rebecca Kirzner
My plea.
Dear Reader. Perhaps you have been hearing about the large protest event in Sheikh Jarrah Saturday, March 6th. Your enthusiasm is justified. It brought together thousands of people, Israeli and Palestinian, for a common cause of restoring justice to the Palestinian families in the neighborhood who lost their homes to settlers. It generated a huge amount of attention, both within and without the country, and of course, in the blogging world. Perhaps you will hold it up as a shining example of how a small group of activists can create a movement – of what can happen when we Israelis, Palestinians, and the international community, stand together for change.
VIdeo clip played at protest, the song title means "A Call to You All" to join the struggle.

This would be a slightly skewed view of the event that Saturday night. The demonstration was not the first time that Israelis and Palestinians stood together to protest the evictions in Sheikh Jarrah, nor will it be the last. Saturday's mega-event was not the culminating goal of the struggle – justice is. Peace is. And although some of the speakers united the crowd of 3,000 with messages of solidarity, justice, and change, others, with divisive words, isolated the Israeli left which had never before come out this strongly in support of their neighbors in Sheikh Jarrah.
So please, reader. Do not dwell too long on that Saturday's protest. It was monumental. (And major KUDOS to the organizers!) But it should not be the focus.
When speaking about recent events in Sheikh Jarrah, it is important to contextualize them within the greater situation in Jerusalem within the Israeli-Palestinian conflict. Sheikh Jarrah is a Palestinian neighborhood just north of the Old City of Jerusalem, and as such, is part of the "historic basin" area. It lies over the Green Line, in East Jerusalem, meaning that while some consider it a neighborhood in Israel's capital city, others consider it part of the West Bank, which should be returned to Palestinian control.
In a two-state solution, the future of Jerusalem remains highly contested. Many factors complicate a division of the city, with the western part remaining the capital of Israel, and the eastern part becoming the capital of a future Palestinian state. These factors include, but are not limited to, the existence of Jewish neighborhoods in East Jerusalem, and access to the Old City. Many proposed solutions, however, are demographically based, incorporating Jewish neighborhoods into Israel and Palestinian ones into Palestinian control.
In these solutions, Sheikh Jarrah is no longer part of Israeli Jerusalem (as it has been since it was annexed into the city in 1967). This fact is very threatening to much of Israeli society who believe that the area is and should remain legally part of Jerusalem, and also worry about whether its proximity to the Old City would pose security issues for the State or limit access to Jewish holy sites in the area.
The home evictions in this area as well as the efforts of Nahalat Shimon International to build a settlement there, are part of a greater attempt to "Jew-ify" the historic basin of East Jerusalem. Doing so would put a wrench in demographically-based proposals leading to a two-state solution of the Israeli-Palestinian conflict. Not only does such activity make the city nearly impossible to divide along demographic lines, it also creates a ring of Jewish settlement around the Old City, disrupting the contiguity between Palestinian neighborhoods, and making a clear statement that the entire area should be in Israeli control. In addition, the legal precedent being set for the home evictions is one of recognizing pre-1948 ownership rights for Jews – imagine the chaos that would ensue if the Palestinians demanded the same rights to return to their homes in Israel! But then again, they probably wouldn't be able to… creating yet another discriminatory system.
Here's videos of these settlers praising mass murderer Baruch Goldstein.

Problematic, huh? That these settler groups, with support from the Israeli government, could effectively thwart the entire two-state solution? Now, that's something to protest!
I am proud to say that I have attended almost every single protest in Sheikh Jarrah since their inception. I remember when they consisted of a tiny group of 30 people marching down Ben Yehuda Street to the neighborhood to protest in front of the houses, now occupied by settlers, with their Palestinian owners living in tents in the street in protest. I remember the really violent weeks, when the police tried to quash the protest by arresting large groups of non-violent advocates for justice. I remember the protest growing to fifty people. To one hundred people. To two hundred people. And more. I am so proud to say that I stand next to truly the most inspirational people in the world – those who are not afraid to speak out against their government, and demand peace and justice, in any type of physical or political climate, even in the face of arrests and violence from police and settlers.
So, please, Reader. Realize something here. Whether you were inspired by the speeches last week or turned away from them… whether you recognized your own voice and opinions in the slogans of the chanting masses, or whether they seemed too radical, the protests are a desperate cry from those who see in these home evictions a threat to peace in the region, to justice and values that both Jews and Muslims share, to safety and security, and to a viable future for the city of Jerusalem and the two nations that lay claim to it.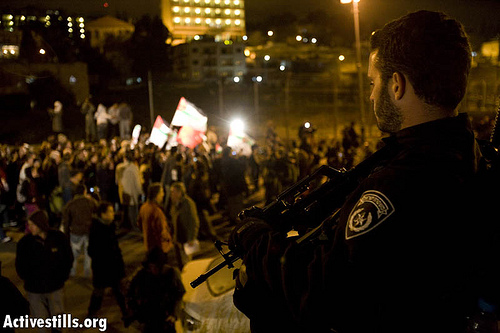 Video from the most recent protest March 12, soundtrack mostly in Hebrew.

Filed under: Featured, On The Ground Reports · Tags: New Israeli Left, Sheikh Jarrah