The Only Democracy? » On The Ground Reports » Live from The Only Democracy? Part 2: An Opposite Impact.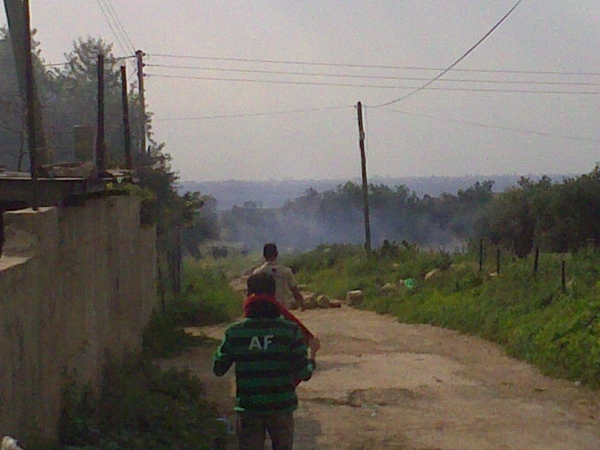 By Libby Amit.
It was clear to most activists and supporters of the joint Israeli-Palestinian demonstrations in the West Bank that this week's declaration by the Israeli army that the entire villages of Bil'in and Na'alin would be closed military zones on Fridays for the coming six months was more of a statement than anything else. Israel has been attempting to quiet the popular struggle against the wall, settlements and occupation for months if not years – with increasingly varied and intense methods recently. This week's military order was clearly another stab at that same repression campaign. The questions that many asked throughout the week were: what's actually going to happen on Friday? Will the military order succeed in keeping protesters out? How is it all going to go down?
Today, the first Friday since the order was announced, we saw just how little these statements actually impact activists – Israelis, Palestinians and internationals. Not only were there more cars heading from Tel Aviv to Bil'in than there have been in a long time, a demonstration was held (and is still underway at the moment) in Budrus. It would be unfair to say that Budrus is a "new" place for demonstrations since the village was heavily involved in nonviolent protests against the wall, and actually succeeded in changing the route of the wall purely using this method, without even having to go to the Israeli high court of justice.
The village decided to hold its first protest in around four years today for several reasons including solidarity with other villages and Jerusalem. So while the obvious goal of the Israeli military order was to quiet, to shrink and to repress, the actual outcome was a very different story.
Here is the trailer for the new film Budrus, from JustVision.
Here is Ynet covering  the protests:
Hundreds of Palestinians and left-wing activists, both foreign and Israeli, demonstrated Friday near Bilin and Naalin against the construction of the West Bank security barrier, this despite the fact that earlier this week the IDF declared that the area surrounding the separation fence in the villages' vicinity will be declared a closed military zone every Friday through August 17.
Filed under: On The Ground Reports · Tags: Budrus, JustVision, Stop The Wall