The Only Democracy? » Human Rights Activists in the Crosshairs » Jerusalem City Government Muzzles a Tour
by Rebecca Kirzner
Sometimes it's just too easy. I mean, really. Sometimes, the total idiocy of your political enemy just makes it so much easier to promote your ideas.
This week, the Jerusalem Municipality requested that Ir Amim, a Jerusalem-based non-profit organization, remove its study tours of East Jerusalem from the events listing on the municipality website.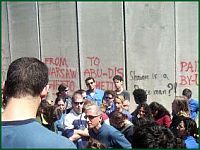 Ir Amim is an Israeli non-profit organization which promotes a politically sustainable future for Jerusalem, and a Jerusalem which respects the welfare and dignity of all its residents – Israeli and Palestinian. Ir Amim's tours of East Jerusalem are highly informative – showing the historical and political background of Jerusalem's role in the Israeli-Palestinian conflict. They allow the participant to better interpret and contextualize the almost constant stream of provocative events in Jerusalem which fill the national and international news almost daily.
Ir Amim was asked to remove their tours from the site because of political content. But…this is the same website that has events from right-wing political organizations such as Elad, who is responsible for the dangerous and provocative excavations in Silwan, and the Gush Katif Museum, though Ynet claims the Jeruslaem Municipal government is "'unaware' of the plan to open the museum and is in no way associated with it. " Obviously, some right-winger thought he could pick and choose which organizations should be allowed to advertise in this public/government space. And equally obviously, when his request that Ir Amim removed their tours became public, it generated MUCH more publicity for the tours! Wouldn't you want to know what the municipality doesn't want you to see?
So, anyway, if you're in the Jerusalem area, look up the next Ir Amim tour. You can find the information on their website or just wait, they'll probably be back on the Municipality website pretty soon.
Filed under: Human Rights Activists in the Crosshairs · Tags: East Jerusalem, Ir Amim, Silwan