The Only Democracy? » On The Ground Reports » Villages Group Finds A Local Hero in Umm Daraj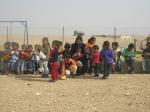 With all the bad news about the fierce apparatus of "Separation" in the West Bank, it is inspiring to learn  about the work of the Villages Group –a small group of Israelis who have regularly traveled to cut-off villages in the West Bank  since 2002.  With their Palestinian partners, they seek to renew direct interaction between the two peoples, with frequent, open, and mutually respectful contact.
Recently the group visited the  Beduin village of Umm Daraj in the Judean desert, where a woman named Huda has managed to keep a preschool running with almost no facility and no budget.
.
Filed under: On The Ground Reports · Tags: Villages Group