The Only Democracy? » Human Rights Activists in the Crosshairs, Victories for Democracy » Letter from New Profile
February 25, 2010
Dear friends and supporters,
We would like to begin by letting you know, once again, that we truly appreciate your continuing interest and support. They have been crucial in enabling us at New Profile to withstand extended harassment and to keep up our work.
Over the last two years, we have faced a series of direct challenges to our longtime efforts towards demilitarizing state and society in Israel. As you may remember, in March 2008, New Profile was notified that its non-profit status was under review by the official body in charge of non-profits in Israel (the Fellowship of Societies Registrar). At the end of May 2008, New Profile learned that a rightwing non-profit had petitioned the High Court of Justice, requesting that it instruct the Registrar to revoke our legal status and effectively block our legal funding channel. Then, in September 2008, the State Prosecutor's office announced a criminal investigation of New Profile's activities. Over six months later, in April, this was followed by a highly publicized police raid immediately prior to Israel's Memorial Day, which clearly drew on the loaded emotions aroused by the rituals commemorating military dead. Police knocked at the doors and searched the homes of six New Profile activists across the country, summoning each of them for interrogation. Personal computers, including some belonging to family members, were impounded by the police and held (in most cases) for a month. Over the following two weeks, eight more activists were interrogated regarding their activities and connections with New Profile.
On November 1, 2009, over a year after announcing a criminal investigation, the State Prosecutor's Office notified the High Court of Justice that it was terminating proceedings against New Profile for lack of culpability and lack of evidence. On January 26, 2010, we received notification from the Registrar's office that its investigation too had been concluded. The Registrar recommended that the High Court announce its dismissal outright of the petition to declare New Profile illegal and ineligible for financial support. We still await the final decision of the High Court of Justice, at the hearing set for later this year, although, given the above, this official ruling is apparently a formality.
While we are clearly relieved that this turn of events has been resolved without incriminating the activities and activists of New Profile, the process has required a great deal of energy, attention and other organizational resources. Meanwhile, we are also witnessing intensified attempts on the part of other branches of government to silence the dissenting voice that New Profile represents. The Ministry of Education and the minister at its head, Gidon Sa'ar, are leading players in a relatively new attempt to gag us.
Notably, on the 1st of December, 2009, hundreds of high school principals were summoned to hear Israel's Chief of Staff expounding his views on the significance of education for enlistment. A peaceful attempt by New Profile activists to offer participants leaflets questioning the militarization of Israeli education was forcibly blocked by security guards and later by the police. Later, in mid-December, Hebrew media channels reported a directive from the Minister of Education barring high schools from hosting New Profile speakers. This, in turn, led to the cancellation of New Profile participation in a series of high school events dedicated to human rights and civic freedoms, including freedom of expression. The series, organized by the highly respected Association for Civil Rights in Israel, was consequently cancelled altogether. These moves are symptomatic of the militarized considerations increasingly constricting the space for free civil debate. Part of a declared government policy to stem a growing non-conscription movement, such educational policies intentionally feed future conscripts' propensity for uncritical, blind obedience, of the kind that can produce behaviors such as those seen in Gaza in December-January 2009.
The above steps are just a single part of a much wider drive to silence dissent and opposition being conducted by the government in tandem with its supporting (and very well supported) non-profit groups. Some other aspects of this campaign include: a revamped, vitriolic public campaign against refusal to serve in the military; smear campaigns aimed at other non-profits and most pointedly at those that supported the findings and recommendations of the UN-issued "Goldstone Report;" personal witch hunts against progressively leaning personages such as former Knesset Member and current New Israel Fund president, Prof. Naomi Chazan; the arrest and imprisonment of Palestinian activists leading non-violent protests; and, increasingly, detainment and deportation of international activists.
Drawing on the vital resource of your support and encouragement, and despite the onslaught, New Profile continues its entire scope of activities. While maintaining a publicly voiced critical analysis of the militarization of Israeli society and, in particular, of Israeli education, we continue supporting the young refusers who currently face increasing demonization, also creating safe spaces for young people who wish to discuss and examine their roles in state and society.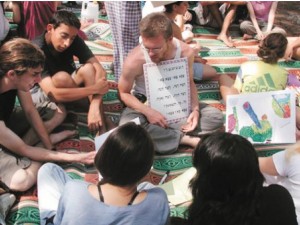 In the next few weeks, after eleven years of activity, we will finally be inaugurating our own meeting space and starting a catalogued, organizational archive. Preparations have just begun for a sixth annual alternative summer community for youth sponsored by New Profile. In April, one of New Profile's activists will be touring the West Cost as part of a speaking tour sponsored jointly by the US-based Refusers Solidarity Network and the Resource Center for Non-Violence of Santa Cruz. Detailed news on other recent New Profile actions will soon follow this update.
A substantial and, to us, extremely meaningful portion of New Profile's activities are made possible by the contributions, both large and small, of many individuals who support and believe in our work. We wish to acknowledge the importance of what each of you has been doing, either in contributing financially, in following and spreading our information, in writing to support imprisoned refusers or to protest to authorities.
We sincerely hope that those of you who are able will continue to make donations to New Profile, especially in these financially unstable times.  Here are instructions on how to donate.
Thank you all once again.
Rela Mazali and Ruth Hiller
Watch an Al-Jazeera profile of the group's work here:

Ruth Hiller, mother of 6, is a longtime peace activist and one of the original founders of New Profile. Four of her children refused to serve in the Israeli military. Her oldest son, Yinnon, was the first pacifist in Israel to get an exemption from the military via an appeal to the High Court of Justice (though the army released him at the last minute — ostensibly on grounds of 'unfitness' — to avoid an actual court ruling, which would have established more of a legal precedent). This was a-six-year struggle with the military and through the courts. ). It is a unique story in the history of refusal in Israel. Ruth has published several reflective pieces on this process and on her involvement in New Profile, English, German, and Italian venues.
Filed under: Human Rights Activists in the Crosshairs, Victories for Democracy · Tags: New Profile