The Only Democracy? » Victories for Democracy » Israel Begins Rerouting Bi'lin Barrier: "A Small Victory"
Israel began work today to  a section of its so-called "security barrier" in the West Bank village of Bil'in — two and a half years after the Israeli Supreme Court ordered the state to return land to Palestinian farmers. The Jerusalem Post has the video and article.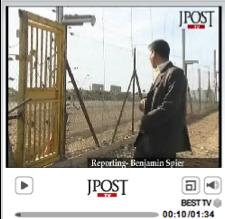 "Bulldozers were on site Thursday and tracks for the new route were being laid down. Some Palestinians welcomed the development but stressed it fell far short of their demand to dismantle the entire enclosure."
For the past five years, Bi'lin residents have held weekly demonstrations against the barrier, which accomodates the Modin Ilit settlement bloc at the expense of over half of Bi'lin's agricultural land.   The newly routed barrier will return some 700,000 square meters of arable land back to the village, with around 150,00 square meters of village land remaining on the settlement side of the barrier. Still a victory for years of nonviolent protest!
Filed under: Victories for Democracy · Tags: Israeli Supreme Court, Protests Against the Wall