The Only Democracy? » Discrimination, Featured » Ajami update: Protests Begin

The prospect of a Jewish-Only building in the heart of an Arab neighborhood in Jaffa made famous by Israel's Best Foreign Film nominee has, as promised, sparked protests, at first with graffiti (you can see a picture at Ynet's article.)
"Local Arab residents were apparently behind the spray-painting of graffiti slogans [in Hebrew] such as "Jaffa is not Hebron," "Jaffa for Jaffa residents," "settlers be gone," and "enough with settlers."
And there is more to come.

Neighborhood Council Chairman Kemal Agbaria said that tensions were rising in Jaffa following the court's decision.

"We will hold a meeting on Monday in order to organize a big demonstration where we will display our power and determination in this struggle," he said.

"Jaffa's residents feel they are fighting for their home. This is not another public garden or school that is being built in an inconvenient location – this is much more than that, and therefore we will struggle the way people struggle for their homes," he added."
Agbaria made it clear that it was the exclusionary aspect of the new residents that bothered him.
"I don't see the settler population fitting in here in Jaffa. We all see what is happening in Hebron. In Jaffa, we won't agree to this, and we will not become Hebron. Whoever wishes to live here will respect the Arabs who live here. There are Jews who come and respect us without any provocations," he said."
Jonathan Cook's article gives evidence that the new potential residents care little about the history or perspective of their new Arab neighbors.
"The manager, Ariel Elimelech, who was overseeing two dozen young men on Sunday as they pored over the Torah, said he commuted daily to Ajami from his home in Eli, an illegal settlement deep in the West Bank south of the Palestinian city of Nablus.

Elimelech said he favored coexistence in Jaffa but added that the seminary's goal was to strengthen Jewish identity in the area. "We don't call this place Ajami; it's known as Givat Aliyah," he said, using a Hebrew name that refers to the immigration of Jews to Israel."
Stay tuned for accounts of the protests.
UPDATE:
You can read a beautiful history of Ajami over at our friend Brant Rosen's blog Shalom Rav. And in the comment section, Jewish Voice for Peace member Michael Levin adds even more resources from the Israeli group "Zochrot" (Remembrance) in the comments section. Zochrot commemorates erased or threatened Palestinian history inside Israel,  and gave a neighborhood tour and distributed a booklet called "Remembering Jaffa's Ajami Neighborhood". Lets hope the whole neighborhood doesn't become "history."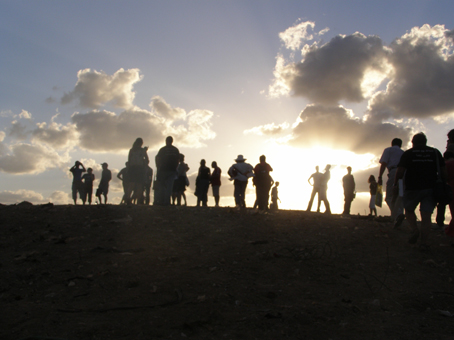 Filed under: Discrimination, Featured · Tags: Ajami, Housing, Palestinian Citizens of Israel