The Only Democracy? » Featured, On The Ground Reports » A Personal Report: Bil'in Marks 5 Years of Struggle, UPDATED with Video
Amir Terkel, is a longtime JVP member who now lives in Ramat Gan, Israel with his wife and 2 children.  After attending the Bil'in 5th anniversary demonstration on Friday, he sent this message:
An Uplifting Day
An account of the  March in Bili'in marking 5 years of joint struggle.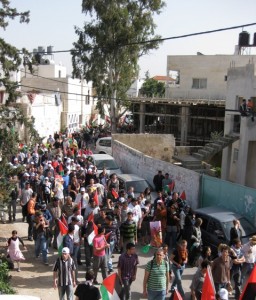 I'll admit things were not looking (or smelling) so hot when we were being sprayed by the Skunk Canon, an indescribably nauseating combination of liquid smelling like a cross between raw sewage and decomposing animals that almost instantly induces your vomit instinct;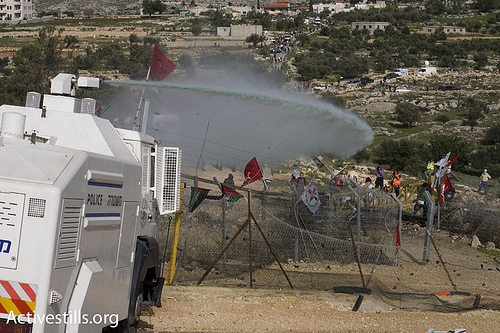 this immediately followed by barrages of aluminum tear gas canisters fired 40 or 60 at a time.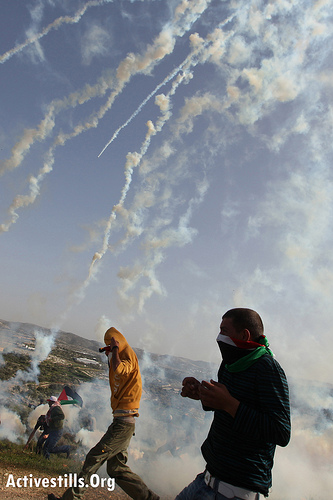 Having these burning hot projectiles rain down on you while you are temporarily blinded and choking from the tear gas was quite terrifying for me.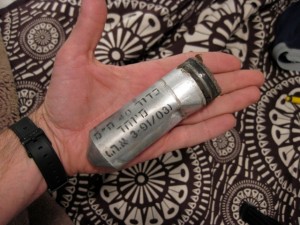 one of many tear gas canisters
None of this could take away from this being one of the most inspiring days I can remember.
I was surprised and moved to find myself marching with over 1000 people from Palestine, Israel and lots of other countries through the main street of Bili'in.
I had been to Bili'in several times in the past year and was not expecting this kind of turn out for the following reasons:
35 or so residents of Bili'n who has been organizing the weekly protest against the fence had been arrested by the Israeli Army over the last 6 months in ongoing night invasions that have been terrorizing the whole village.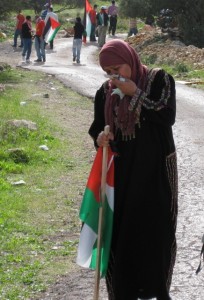 In the last  few weeks the violence used against demonstrators by the army has been escalating sharply in an effort to squash the resistance as the core leadership was imprisoned.
Internationals staying in the village had been repeatedly arrested by a special immigration unit who have no jurisdiction in the west bank.
Bili'in and the neighboring village of Nia'alin have been declared Closed Military Zones by the army until August 2010 (how's that for a democratic move?) and Israelis were warned that anyone caught will be arrested.
Undercover Police have lately been following Israeli protesters from their meeting point and then detaining them at west bank checkpoints.
There's an omnipresent surveillance camera taking video of the fence and footage from it is used regularly in court against Palestinians and Israeli protestors.
Repression of dissent not to mention resistance has been increasing to such overwhelming proportions in Israel recently that I've gotten to feeling powerless and depressed. The fact that so many people came out, were willing to put themselves at all kinds of risk simply made my spirits soar and energized me.
It was truly a moment of joy and inspiration.
Its been said many times before but its worth repeating, this is a tiny village up against an incredibly sophisticated and violent military apparatus that has complete powers to arrest, jail, intimidate and restrict movement. For over 5 years my government has thrown everything it has at the people of Bili'in and yet still not only have they not given up they are still willing to join with Israelis in their struggle.
If that's not inspiring I don't know what is.
Addendum:
A section of fence was toppled by jubilant Palestinians, Israelis and internationals.
It was a symbolic small victory for a truly joint struggle.
No doubt the fence will be repaired by next week.
We will be there too standing side by side.
All photos by Amir Terkel, except where noted.
Video of the Protest:

Filed under: Featured, On The Ground Reports · Tags: Bi'lin