The Only Democracy? » Discrimination » UN: Israel's "Heritage Sites" Are On Palestinian Land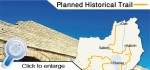 Following Benjamin Netanyahu's announcement on Sunday that the biblical Rachel's Tomb in Bethlehem and the Tomb of the Patriarch in Hebron would be added to the list of Israel's "Heritage sites", a chorus of officials condemned the plans as confiscatory, and derailing  peace efforts.
 United Nations top Mideast Envoy, Robert Serry, said:
Those sites are in Palestinian territory and bear an importance not only in Judaism but in Islam as well…Implementation of the government's decision could harm trust between the two sides and hurt the efforts to renew talks
PLO Chief Negotiator Saeb Ekekat issued a statement saying:
The unilateral decision to make Palestinian sites in Hebron and Bethlehem part of Israel shows there is no genuine partner for peace, but an occupying power intent on consolidating Palestinian land …Netanyahu is actively working to sabotage the two-state solution.
Meanwhile, Jordanian Minister of State for Media Affairs  Nabil Sharif accused Israel of "adopting measures that derail the ongoing peace moves."
Sunday's announcement by Netanyahu follows last week's approval of a plan to build two heritage "trails" of archeological sites that snake through Israel and the West Bank.
Filed under: Discrimination · Tags: "Heritage" sites