The Only Democracy? » Human Rights Activists in the Crosshairs » Proposed Legislation Targets Israeli Human Rights NGOs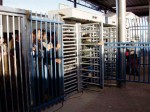 Jeremiah Haber of the Magnes Zionist reports on proposed legislation endorsed by the Israeli government that would  place onerous reporting burdens on human rights non-governmental organizations within Israel,  and strip them of their status as public institutions.  If passed,  Haber warns, "it will be a black day for what is left of Israeli democracy." Indeed, if anything it makes "the only democracy" in the Middle East fit in with other governments in the region:  civil society NGOS are subjected to similar reporting requirements in Iran, and are harassed in Egypt.
Why Bomb Iran When You Can Be Iran? That seems to be the thinking behind the Israeli government's endorsement of legislation that will require human rights NGOs in Israel (e.g., B'Tselem, Machsomwatch, Breaking the Silence, Adalah, etc.) to publicize contributions from foreign governments, not only in an annual report (they all do that anyway), but every single time they host an event, have a meeting, publish a report, issue a news release, whether they have received outside funding for that particular occasion or not

And what's particularly odious about the proposed legislation is that if these groups receive such funding, they will lose their tax status as public institutions, but will be defined as "political entities" that have to register and report to the Registrar of Political Parties.
What's more, the proposed law is discriminatory;
The law has been crafted by right-wingers to target the human rights organizations. If your organization receives money from a Jewish gambling mogul, or from an evangelical Christian organization that looks forward to the destruction of the State of Israel when Jesus returns, you are exempt. Governments like Spain, Holland, and Great Britain, don't fund illegal settlements; they fund peace initiatives civil society initiatives, in Israel as in Iran.
Filed under: Human Rights Activists in the Crosshairs · Tags: democracy, Israeli Legislation, Magnes Zionist