The Only Democracy? » Entries tagged with "Meta"
September 30th, 2011 | Add a Comment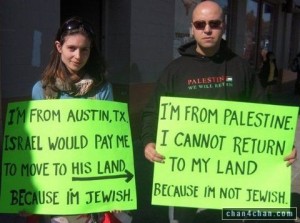 This text is cross-posted from Daily Kos, where it was part of an ongoing debate. First, we had user "soysauce" in a brilliant rec-list diary, countering the Bibi government's slogan that it isn't enough for Palestinians to recognize Israel – they need to recognize it as a Jewish state. To my understanding, the 2 main reasons soysauce cited against doing this, were 1. Discrimination against Palestinian citizens of Israel, and 2. Relinquishing the Right of Return. Then … Read entire article »
Filed under: Discrimination, Featured
August 5th, 2011 | Add a Comment
My 5-year involvement with the progressive-liberal Daily Kos blog site has been somewhat intermittent. Although I love to blog, there is still this other pesky thing called "life" that often tends to take precedence. At other times, despair about my main blogging subject (Israel-Palestine, hereafter I-P), and the apparent futility of the I-P scene here, had kept me away for weeks or even months. So it was nearly 2 weeks late that I received the meta "headline news": an Antisemitism epidemic was diagnosed at Daily Kos. The list of symptoms was detailed in a public letter, with dozens of examples from diaries and comments. The good citizens of this progressive-liberal community were called upon to take action, to eradicate the disease from among us – because at other times when good … Read entire article »
Filed under: Discrimination, Human Rights Activists in the Crosshairs
© 2018 The Only Democracy?