The Only Democracy? » Entries tagged with "Bethlehem"
April 5th, 2010 | Add a Comment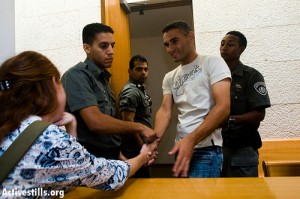 by Jesse Bacon Organizer Mousa Abu Maria, whose home was raided March 8th, has been detained again. This time, the force attempting to suppress his demonstrations in Beit Ommar was not the Israeli army, but rather the Palestinian Authority police. It seems both Israeli and Palestinian officials can agree on something: that protest must be crushed. His wife and co-organizer Bekah Wolf reports: While  Salam Fayyad and other PA ministers march in Bil'in and Bethlehem declaring … Read entire article »
Filed under: Human Rights Activists in the Crosshairs
Get TheOnlyDemocracy? by email
Pictures from ActiveStills
Feedback
Want to respond to one of our posts? We invite you to send us a thoughtful email about what you like or don't like- we'll feature the best notes on our site.
We're going to try this system in lieu of comments. We think it will add more to the quality of the site and will let us spend more time posting news stories. Write us at tod@jewishvoiceforpeace.org.
© 2013 The Only Democracy?