The Only Democracy? » Featured, Human Rights Activists in the Crosshairs » Four cases against Israeli democracy
By Jesse Bacon
While I was away on vacation, four cases of the continuing slow death of Israeli democracy occurred. Taken together, they represent a good spectrum of the responses to democracy activists by Israel, all negative.
First, Matan Cohen, Israeli-American activist, member of Young, Jewish, and Proud, and one of the people behind the push for divestment at Hampshire College. He attempted to return home as he often does. He was taken aside on December 17 by Israeli security's "Jewish division" and accused of "hostile terrorist activities," ie nonviolent organizing. Here's his account:
Dear friends,
I just wanted to update you about a recent experience I had…

Upon arrival at Tel Aviv's Ben Gurion airport, on Friday afternoon, I was detained for roughly 3 hours by Israeli secret service (Shabak)- the official charge being alleged involvement in "hostile terrorist activities" against the state of Israel. My luggage was thoroughly searched, but I was not questioned. I was let ago after, apparently, head of the "Jewish Department" in the secret service called the police and told them I could now be released, with no charges filed.

Although this isn't the first time I am stopped, until this summer it was only done upon leaving the country, but never upon returning. This is definitely a step up in the level of political repression against anti-apartheid activists in general, and BDS activists in particular. We are now in consultation with our legal team regarding possible lines of action. And while this is a personal hassle, it is obviously a small price to be paying in comparison to Palestinian activists, and on the political level this sort of harassment should make clear to us that the state is helpless as for how to stop us, and resort to such tactics of intimidation.

No Pasaran, and thanks everyone for your concern.

Solidarity,
matan
Here is Ha'aretz's Amira Hass on Israeli "anarchists" in the crosshairs.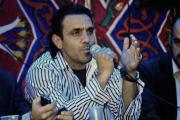 Matan is correct that Palestinians still face worse repression, though of course that does not excuse the intimidation against him. But while he faced harassment for returning to Israel/Palestine, Jerusalem Palestinian organizer Adnan Gheith faced expulsion for resisting settlement takeovers in his Silwan neighborhood. In a temporary victory for democracy, the Israeli Supreme Court issued an injunction today and there will be a  hearing on his case Wednesday. Here's a Jewish Voice for Peace alert calling for Adnan to be able to stay in Jersulaem.
Please email the U.S. State Department today to express your concern about Adnan's case. Forward  this email to your friends and ask them to email and call before Wednesday.

Adnan resides in the historically Palestinian neighborhood of Silwan. He is a member of the al-Bustan Neighborhood's Committee, an organization formed to fight plans for increased demolitions of Palestinian homes.

The expulsion order against Adnan is arbitrary and politically motivated. Adnan was unable to legally defend himself since no charges or evidence were presented against him. With his removal, the Israeli authorities are trying a dangerous new tactic to repress the rights of local residents to protest. A few days after Adnan was notified of his impending exile, he was also forbidden to attend a conference with a senior foreign diplomat or to appear in any press conference.

Adnan's banishment and the quashing of his freedom of expression are part of a larger pattern to judaize Silwan at the expense of its Palestinian residents. In recent years the Jerusalem municipality–in collusion with settler organizations–has intensified the policy of demolition of Palestinian homes in the neighborhood.

Adnan has spoken out against this and now is being penalized. He needs your help to stay in Jerusalem and continue struggling to protect his home and his community.

In Adnan's own words:"On my part, I am going to fight and resist in all legal ways possible to stay in Jerusalem.  It is the duty of the international bodies, the international communities, and human rights organizations to address this issue of exceptional danger."

Please heed Adnan's call. Stand by him and by the people of Silwan.
While Matan was ultimately not charged, Jonthan Pollak who does similar activism on behalf of the Popular Struggle Committee, who we often repost on this site. While he is often defending Palestinian democracy activists for wrongful imprisonment, he is now facing three months in prison "with his head held high" for riding his bike in a Critical Mass protest, like those that exist in many U.S. cities. I think it safe to say that no one in the United States would receive more than a fine for such actions, Israeli police took it as carte blanche to punish Pollak.
+972 magazine has Jonathan's speech refusing to ask for leniency or express remorse upon receiving his sentence.
Here's the Independent (UK) on Jonathan's arrest for his West Bank resistance.
Joseph Dana on the links between Adnan Gheith, Jonathan Pollak, and Mohammed Abu Tir
Finally, Mazin Qumisyeh, a Palestinian academic who returned to help with protests against the wall in the village of Al-Walaje, was arrested on December 22, with several of his comrades. This is not the first time, but there was even more violence than usual. Here's an account from his friend.
Mazin, Shireen and Abu Ammar were released late last night, the other five were supposed to get released today on a bail of around 100€ each – again, this for having stood in their village and having argued that the ILLEGAL destruction of their land was illegal.

When he got back, Mazin talked about yesterday on video, if you have a few moments, please have a look at it. I think, apart from the content, what the video shows is that the people resisting here are ordinary people, people, who have families, who try to live ordinairy lives, who have things to do and get disrupted when soldiers invade their villages and lives, who want to live, and in peace. Mazin is a professor and had things to do yesterday. We are students, farmers, teachers, workers, daughters, sons, wives, brothers, etc. and we are fighting for our right to live and to live freely and in justice. There's more and more people in the world uniting, not only against the injustice, colonialization, Apartheid, occupation, oppression, that exists here but elsewhere, too. Yet, mainstream discourse still portrays the oppressor here as the victim, because of an immense crime that was committed by other people elsewhere.  We here, Palestinians, Israelis, non-Israeli Jews, people of other ethnicities and religions stand side-by-side in front of one of the strongest armies in the world and we are struggling to keep our sisterhood, dignity, solidarity, and humanity. I usually don't write about how I feel about the things that are happening around me, but it's the end of the year, I'm tired, I'm sad, and I'm really angry.

We're trying to celebrate Christmas and the New Year, here, amid the thousands of tourists that come to the supposed birthplace of Jesus, often without knowing anything about this city that holds three refugee camps… I'm struggling to end this on a positive note, except maybe on the wish (though not hope) that the next year will be much much better, where they will not launch a new massacre on Gaza as they are announcing already, and with gratitude to being surrounded by so many brave people that try to stand together, in spite of all, and love.
Here's the Popular Struggle's account of Mazin's arrest in Al-Walaje as Israel ramps up construction of the wall.
Video of Mazin talking about his arrest:

Filed under: Featured, Human Rights Activists in the Crosshairs · Tags: Adnan Gheith, Al-Walaje, Amira Hass, Ben Gurion, Critical Mass, Israeli Security Services, Jonathan Pollak, Matan Cohen, Mazin Qumsiyeh, Popular Struggle Coordination Committee, Shin Bet