The Only Democracy? » On The Ground Reports » "Play the game, change reality."
By Jesse Bacon
Anyone who is grew up shooting virtual Nazis as I did knows that video games can be addictive. They can also be a nice respite from a fairly dull existence. They can even be achingly, vacantly beautiful.  But when I became an activist, I wondered where were the games that would teach us about social justice? I didn't really have time to look anymore, what with the activism and all, but all I could come up with was "State of Emergency" a vastly oversimplified version of the WTO protests.
But Gisha, the group that furnishes us with the amazing "Gaza Gateway" posts has at long last done it, with a game that has more in common with the "Quest" games (Police, Space, Kings) of my childhood then the nazi/alien/zombie shoot 'em ups.Unfortunately, no matter how fiendishly difficult those childhood games could be, they had a logic and could be defeated through cleverness. The occupation, on the other hand will only be defeated through people caring and acting on that caring. In the mean time, please go play "Safe Passage."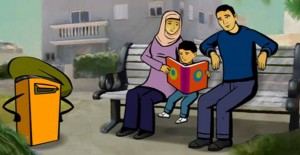 For the less interactively inclined,here's the video preview of the game.

and here's a clip of my favorite movie Brazil, which I was unpleasantly reminded of playing the game.

Filed under: On The Ground Reports