The Only Democracy? » Human Rights Activists in the Crosshairs » Who's Who of Banned Israeli Visitors
From Right To Enter: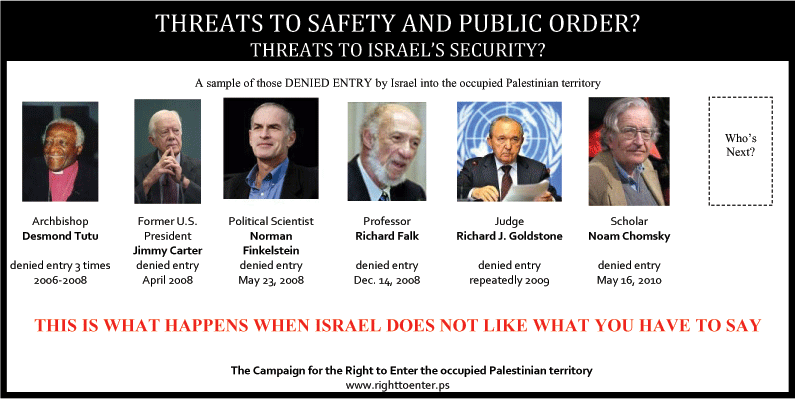 At this point, you could have quite the dinner party with the folks Israel leaves out! How do I get on that guest list?
UPDATE: Eitan Bronner has an article on the dustup inside Israel over whether it was such a great idea to ban Noam Chomsky, after doing likewise to Jewish American journalist Jared Maslin,  Falk, and Goldstone as well as my personal favorite, Spain's most famous clown Ivan Prado. Maybe if Israel didn't need to hide what it was doing to Palestinians, Elvis Costello wouldn't need to stay away as well!
The decision Sunday to bar [Chomsky]from entering the West Bank to speak at Birzeit, a Palestinian university, 'is a foolish act in a frequent series of recent follies,' remarked Boaz Okun, the legal commentator of the newspaper Yediot Aharonot, in his Monday column. 'Put together, they may mark the end of Israel as a law-abiding and freedom-loving state, or at least place a large question mark over this notion.'"
Related posts:
For Gaza tailors, market is flooded, external markets are (still) banned and 96% of their jobs are lost.
Filed under: Human Rights Activists in the Crosshairs · Tags: Denied Entry, Desmond Tutu, Goldstone, Jimmy Carter, Noam Chomsky, Norman Finkelstein, Richard Falk, RIght To Enter