The Only Democracy? » Entries tagged with "Right of Return"
September 30th, 2011 | Add a Comment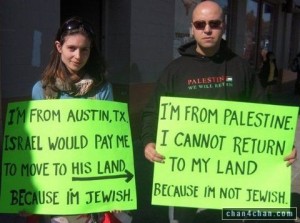 This text is cross-posted from Daily Kos, where it was part of an ongoing debate. First, we had user "soysauce" in a brilliant rec-list diary, countering the Bibi government's slogan that it isn't enough for Palestinians to recognize Israel – they need to recognize it as a Jewish state. To my understanding, the 2 main reasons soysauce cited against doing this, were 1. Discrimination against Palestinian citizens of Israel, and 2. Relinquishing the Right of Return. Then … Read entire article »
Filed under: Discrimination, Featured
© 2018 The Only Democracy?