The Only Democracy? » Discrimination » Israeli government thanks Palestinians for help with the fires…
By Jesse Bacon
..By not recognizing their names and refusing them entry for award ceremony in their honor. . This should remind us just how arbitrary the whole edifice of permits and checkpoints is that it can keep out people who helped contain the horrible fires and prevent worse disaster. I am also reminded of the U.S. soldier who was the first to die in the Iraq War and was posthumously awarded the citizenship he was denied in life.
Israeli officials on Tuesday canceled a ceremony planned to honor the Palestinian firemen who assisted in battling the Carmel fire last week, after a number of crew members were refused permits to cross the border.

Palestinian Fire Services Commander Ahmed Rizik said that he and his staff were surprised to learn when they arrived at the checkpoint that only seven out of the 10 fireman would be granted entry into Israel, although all of them had been allowed in at the time of the disaster.

"There is no logical reason and I don't know what the catalyst was, but unfortunately we could not make it, and therefore the event has been postponed to a later date," he said.

The Israel Defense Forces said that the permits were denied due to a bureaucratic mistake, explaining that the list of names was processed without the firefighters' identification numbers attached.

The army said it was now working on getting the honorees the correct permits.

Israeli Arab MK Ahmed Tibi deemed the incident a "not just a march of folly or a theater of the absurd but stupidity and the normative lordly attitude of the occupation regime."
"This is a complete shame," he added.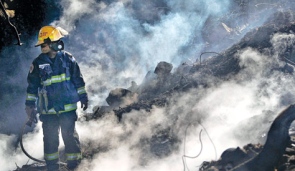 .
Filed under: Discrimination · Tags: Ahmed Tibi, Carmel Fires, entry permit, Palestinian firefighters