The Only Democracy? » Featured, Human Rights Activists in the Crosshairs » Palestinian expert on Israeli settlements and cartography barred from travel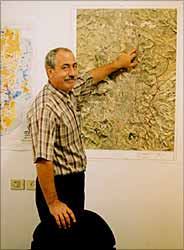 According to Amira Hass,
"Interior Minister Eli Yishai has banned Palestinian geographer Khalil Tufakji, a resident of Jerusalem, from traveling abroad for six months, citing unspecified security concerns.

The ban was issued on the recommendation of the Shin Bet security service and is based on 1948 Emergency regulations.

"Having been convinced that there is real concern that the exit of Mr. Khalil Tufakji from Israel may harm the security of the state, I order that he be banned from exiting the country until 2 August, 2010," the order reads.

Tufakji, 60, was summoned last week to a meeting at Jerusalem police headquarters in the Russian Compound. There, a man in civilian clothes calling himself Shadi, gave him the order.

The Shin Bet said that the man was a policeman.

Tufakji has for years been researching Israel's settlement policy and the ways by which Palestinian land is taken over, as well as planning policy which discriminates against Palestinians.

He heads the cartography department of the Arab Studies Society, established in 1980 to document the social, political and cultural history of the Palestinians.

Since 1992 Tufakji has been part of Palestinian negotiating team on property borders, land and settlements. In addition to his research, he lectures in Israel and abroad and is often interviewed by journalists."
I hope those of us who are concerned with Israel's security have better things to worry about than a cartographer and participant in peace negotiations. But if your goal is to deny democracy to people, an academic with a map of the gradual theft of Palestinian land by settlements is a much bigger threat than a fighter with a gun.
Filed under: Featured, Human Rights Activists in the Crosshairs · Tags: Amira Hass, travel bans