The Only Democracy? » Discrimination » Hard to run a democracy without electricity
This story about Israel allowing some goods to enter Gaza reveals just how much is not being allowed in.
"Between 90 and 100 truckloads of commercial merchandize and humanitarian aid will enter through Gaza's southern border crossing, including two trucks of fuel, Fattouh said.

Additionally, two trucks of cut carnations and one truck of Gaza strawberries will exit also via Kerem Shalom for export. According to the Office for the Coordination of Humanitarian Affairs, since 10 December 2009, 39 truckloads exited Gaza, including 15 truckloads of cut flowers (1,674,840 stems) and 24 truckloads of strawberries (41 tonnes). Prior to this, there had not been any exports from Gaza since 27 April 2009."
The siege of Gaza strangles not just food or exports but even electricity.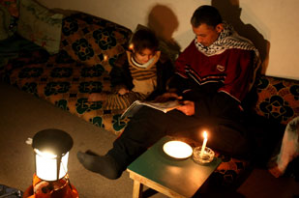 "Approximately 40,000 people remain without electricity at all times due to damage incurred to electricity networks during Operation Cast Lead last winter, OCHA said. The Gaza Power Plant (GPP) authority indicated that fuel reserves are available for a few additional days and, if no more fuel is delivered in the next days, the GPP will completely shut down."
UPDATE: Indeed, the plant has shut down one of its two generators, with only enough fuel left for tomorrow.
"People are trying to stock up on fuel to operate private generators for the buildings and institutions that have them," according to Emad Eid, the director of Ma'an's Gaza City bureau. He said that while Gazans are used to these blackouts, most generators in private homes are too weak to produce enough electricity for heating, and are used predominately for simple needs like charging mobile phones.
Eid also noted the unfortunate timing of the shutdown, accompanying a sharp drop in temperatures across the occupied territories and Israel. "It's already freezing here, and it's only going to get worse," he said."
People should call your representative to urge them to sign this letter, or thank them if they already have.
The letter, signed by 54 members of Congress, reads,
"The people of Gaza have suffered enormously since the blockade imposed by Israel and Egypt following Hamas's coup, and particularly following Operation Cast Lead. We also sympathize deeply with the people of southern Israel who have suffered from abhorrent rocket and mortar attacks. We recognize that the Israeli government has imposed restrictions on Gaza out of a legitimate and keenly felt fear of continued terrorist action by Hamas and other militant groups. This concern must be addressed without resulting in the de facto collective punishment of the Palestinian residents of the Gaza Strip. Truly, fulfilling the needs of civilians in Israel and Gaza are mutually reinforcing goals."
Filed under: Discrimination · Tags: Gaza